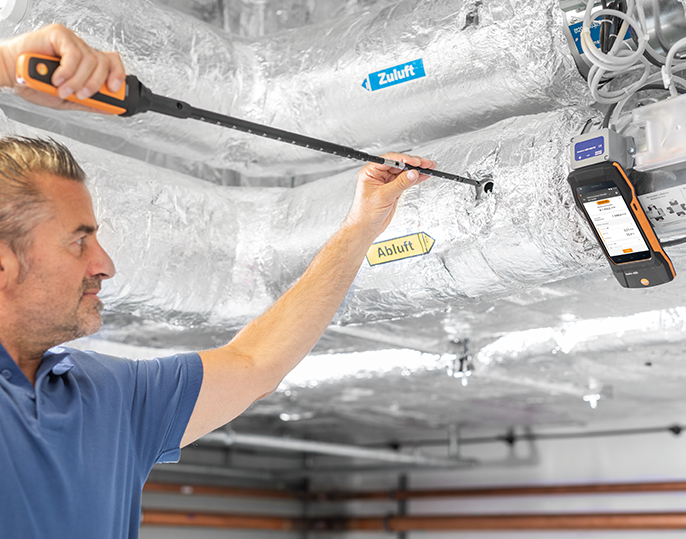 The Testo 400's unparalleled IAQ monitoring application.
Assessing Indoor Air Quality (IAQ) can be a daunting task when you consider the complexities of monitoring all the different parameters that contribute to ambient temperature humidity and air-flow. These parameters include:
Air pressure and turbulence

Illuminance and radiant heat

Gas levels, including carbon dioxide, carbon monoxide and oxygen
In the past, technicians were required to own a range of instruments to monitor all these IAQ parameters. But is that still the case? Thankfully not. Testo's 400 offers unparalleled data monitoring and reporting in one streamlined and sophisticated solution. It is the perfect device for IAQ technicians day-to-day needs.
What are the features offered by Testo's 400 IAQ instrument?
The Testo 400 solution was developed around two core ideals. The first being a focus on streamlining the time taken to monior all IAQ parameters, and secondly harnessing the power of easy digital reporting. With this in mind, the Testo team devised these features.
Stored measurement menus and custom evaluation, all from within the instrument, allows for smarter data analysis that suits any application. The traffic light principal when collating datasets reduces the risk of human error and improves measurement accuracy.
The interchangeable probe heads allow for quick calibration without having to restart the instrument. Removing the need to wait for the instrument to boot up and down saves valuable time, reducing handling time and improving measurement efficiency.
Operators can tailor all completed measurements in branded documents. Users have the ability to add photos and comments to these custom reports, which can then be shared seamlessly via email or Bluetooth.
Testo has made it easier than ever before to record IAQ conditions and connect end users with this data.  For more information on the Testo 400, and how it is a true step into the digital age, contact the Testo team today!