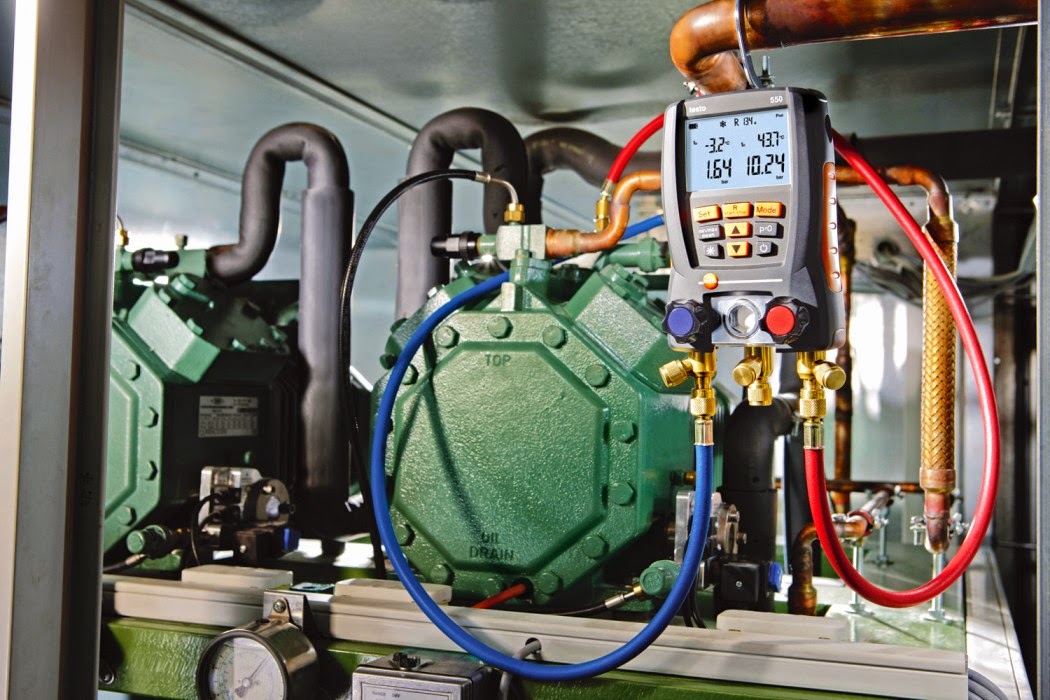 Testo's 550 Digital Manifold: Streamlining Refrigerant Hose Use and More
Analogue systems are a thing of the past. Improvements in data processing and operator ease of use have made many modern solutions a superior alternative. This is particularly true in regards to measuring refrigeration data.
Testo's 550 digital manifold kit not only boasts the capabilities needed to accurately measure all refrigerant data parameters, but also is able to do so without the need to switch between multiple refrigerant hoses.
I know what you're thinking.
"How is that made possible?"
What does the Testo's 550's automatic heat pump mode offer?
One of the most time consuming aspects of servicing refrigeration units is having to switch hoses between multiple datasets. This is no longer the case, additional work can be avoided with Testo's 550 digital gauge.
By evacuating the testing hoses when switching measurements, the adaptive automatic heat pump mode ensures that each new refrigerant is recorded accurately. This also saves technicians the time it would usually take to attach a new hose when testing a new refrigerant. This is a major step forwards in the development of refrigerant technology, as it majorly optimizes ease of use.
What Other Features of Testo's 550 simplifies testing for refrigeration technicians?
Testo's 550 gauge's smart device connectivity plays a major role in making it a market leader. Once you've installed the free app onto your tablet or phone, you are able to access Testo's 550 digital manifold seamlessly. This online connectivity offers a range of benefits, including:
Remote measurement monitoring allows you to keep an eye on all data parameters from your smart device within a 20m radius

The app allows for improved documentation and reporting. It allows users to store measurement results in both .pdf and .csv format, or send them through email. Smart device connectivity allows users to easily add videos and pictures directly into data reports.

The app is capable of ongoing refrigerant updates. This means that you can track recorded refrigerant data and update the digital manifold. This ensures a comprehensive and accurate list.
The Testo 550 kit supplies a variety of additional solutions, ensuring that all refrigeration equipment testing and servicing can be done onsite. Three filling tubes allow technicians to get work done efficiently without delay, while the strong and robust transport case allows the Testo 550 to be transported with ease while ensuring the equipment's safety.
Testo cannot be matched with its digital measurement capabilities and intuitive operator experience in regards to the Testo 550 digital manifold kit. It provides New Zealand technicians the cutting edge in digital solutions to all refrigeration technology servicing and maintenance needs. For more information on Testo's 550 kit, contact us today.