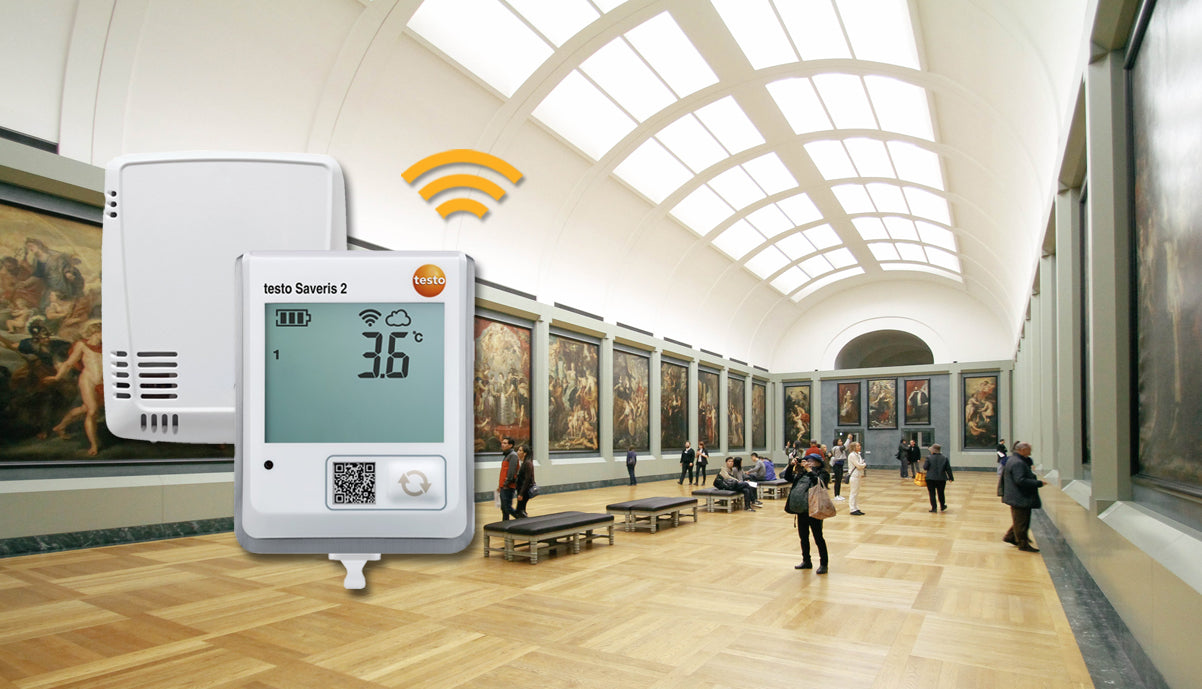 Temperature monitoring in museums and archives with Testo Wi-Fi Data Loggers
Museums and archives fulfil an important role by conserving exhibits and works of art for future generations and making them accessible to the public. To protect exhibition artefacts from damaging climatic influences, the monitoring of temperature and humidity in exhibition rooms and stores is now standard. Previously however, reading out the ambient data recordings always involved a great deal of work.
With the Testo Saveris 2 and Testo 160 series Wi-Fi data loggers, you can monitor temperature and humidity securely and automatically with minimal effort.

Your challenge: To monitor ambient conditions in exhibition rooms, archives, display cases or storerooms in order to protect exhibition artefacts and to ensure a pleasant climate for visitors and staff.
Your solution: Testo Saveris 2 & Testo 160 Wi-Fi data loggers
Loggers can be positioned anywhere.
Measurement values are automatically transferred to the Cloud and stored there.
Data is accessible at any time.
Alarm for critical values.
Testo Saveris 2 and Testo 160 loggers are compatible with one another.

Your advantages: How Testo Wi-Fi data loggers create more efficiency
Automated and secure temperature monitoring
Measuring values are stored in duplicate: in the data logger and in the Testo Cloud.
No more manual readout and documentation!
Easy data access from anywhere in the world via smartphone, tablet, laptop, or PC.
No software needed, all you need is an internet connection, wireless LAN, and Web browser.
Maximum flexibility with the Advanced licence
Receive email and txt alerts immediately to your device when temperature violations occur.
Testo's role in preserving New Zealand's Air Force treasures
Client Testimonial - Air Force Museum of New Zealand.
'The Air Force Museum of New Zealand at Wigram, Christchurch, cares for over a million objects that tell the story of the Royal New Zealand Air Force. An important element of looking after our collection is ensuring that it is displayed and stored in appropriate environmental conditions, avoiding temperatures or levels of relative humidity that could pose a threat to individual objects and materials. The Testo environmental monitoring system helps us to do this.
Until recently, we used plug-in temperature and humidity readers to track conditions in our spaces, an option that took up staff time and only provided information about events once they had already happened. Looking to improve our monitoring capabilities, we installed a network of Testo 160TH and Testo Saveris 2 H1 readers across our site, which is made up of many different buildings and well-suited to a wi-fi based system.
The units allow us to monitor conditions in real time via the Saveris 2 interface, and access past data to understand how our spaces perform over the long term. This enables us to make informed decisions about how to display and manage our collection and provides evidence that we can use to specify HVAC requirements. The ability to monitor conditions remotely means we can have oversight from anywhere at any time - a feature that became especially helpful during Covid-19 lockdowns - and cloud-based storage provides reassurance that we won't lose data due to on-site server failure.
We've found the Testo system to be reliable, effective, and easy to use, and it is an important tool in our collection care toolbox.'
Murray McGuigan, Collections Technician, Air Force Museum of New Zealand.
Every museum, archive or gallery is different so you can assemble your Testo Wi-Fi data logger system with the right loggers and Cloud licence to suit your application.
Get in contact with the team at Testo NZ today for more information or to discuss your project requirements, our team are happy to support you.