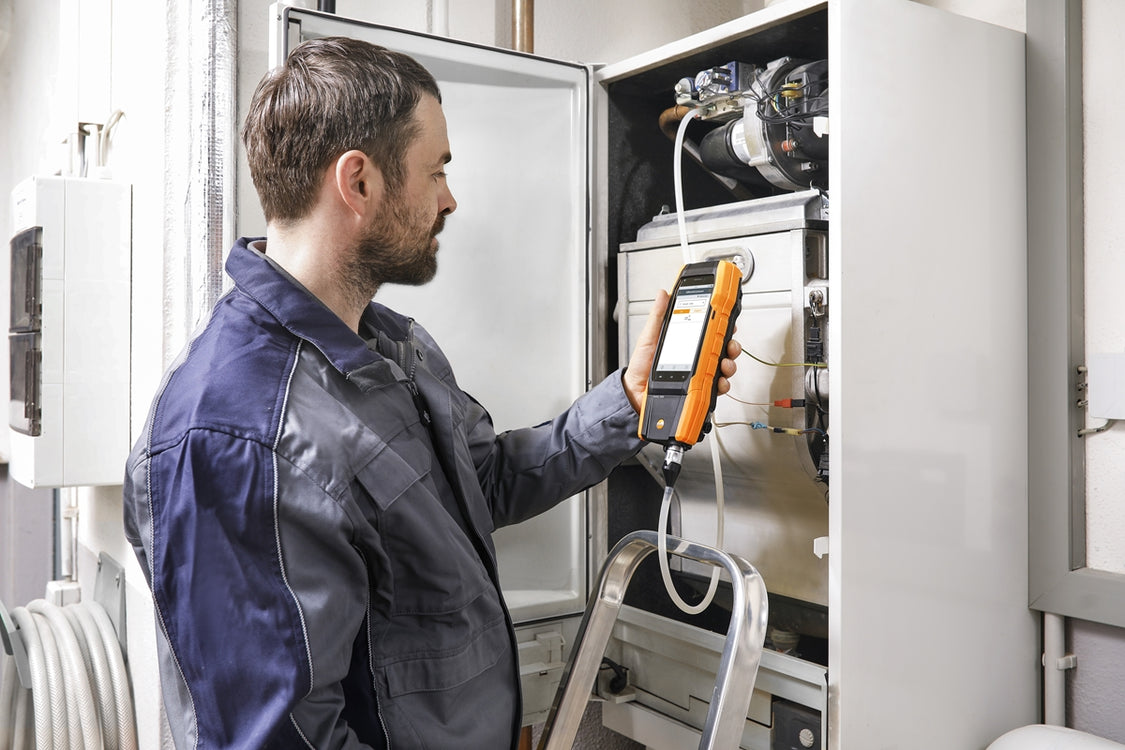 Introducing the Testo 300 Instrument: A revolution in gas measurement.
Flue gas analysis is an integral part of the indoor air quality management sphere.
It is required to ensure heating systems aren't producing dangerous levels of gases such as carbon monoxide, carbon dioxide and nitrous oxide. We've seen many changes over the years in which the manner of this is done, but nothing as decisive and revolutionary as Testo's 300 Gas analyser.
Digital Measurement: A Natural evolution from Manual Testing.
Over the last decade, we have seen the emergence of an interconnected online environment in relation to how measurement tools are used across a range of industries and applications. Flue gas analysis is no exception. Digital solutions modeled after analogue and manual data measurements has provided a smooth transition for technicians  to adopt.
Digital solutions have enabled experts to:
Record data

Process datasets quickly

Collate and manage data online
While this is useful, it is still not entirely optimized to maximize the potential for digital instruments. Because the new flue gas analysis solutions are modeled after manual processes, it does not take into account the user experience. One-stop functionality and intuitive design is a priority for other emerging digital technologies – whether it be smart phones, tablets etc. So why can't gas analysis solutions be the same?
The Testo 300 Measurement  Solution: A Digital Evolution.
Testo strives for innovation, staying ahead of the market. It is this drive that has shaped the creation of the 300 flue gas analyser, a tool that is vital in changing and shaping the way technicians and engineers work. Never before has there been a digital analyser offering such a robust design, with unparalleled functionality and data collation ability.
The change is built right into the design of the hardware of Testo's 300 solution. Users can instantly read operational data on its built in Smart-Touch HD display. The screens resemblance to that of a smart-phone is no coincidence – a focus on ease-of-use, the user experience, and intuitive functionality were a focal point in designing and developing the equipment. Couple this with a scratch-proof display, exchangeable protective film, and a shock proof housing unit, you have a piece of equipment ready to withstand what ever life may throw at it.
Functionality is improved with an easy to understand, simple but flexible, text and menu system. All crucial information such as gas parameters and other recorded data is now easily presentable by technicians through graphs and tables, making it even more efficient to draw insights from raw data in a customized configuration.
Testo's 300 gas analyser continues to innovate with its ability to connect its software to other smart-devices, making life easier and more efficient for technicians. After measuring key parameters, smart reporting compiles all the essential data into a streamlined report for technician and end-users alike. At this point, all reports can seamlessly be shared and downloaded over WiFi to other devices. Imagine having access to all operational data, anytime, anywhere. The possibilities are endless for expert users servicing and maintaining heating systems.
Testo's Gas Analysis Solutions
The Testo 300 instrument is a new bench mark in the functionality of the 300 series of flue gas analyser. Optimised for a range of applications and heating systems, Testo New Zealand  provides every customer with the tools to join us at the leading edge of the insustryindustry. For more information on Testo's 300 gas measuring instrument,
contact the product sales team
today.