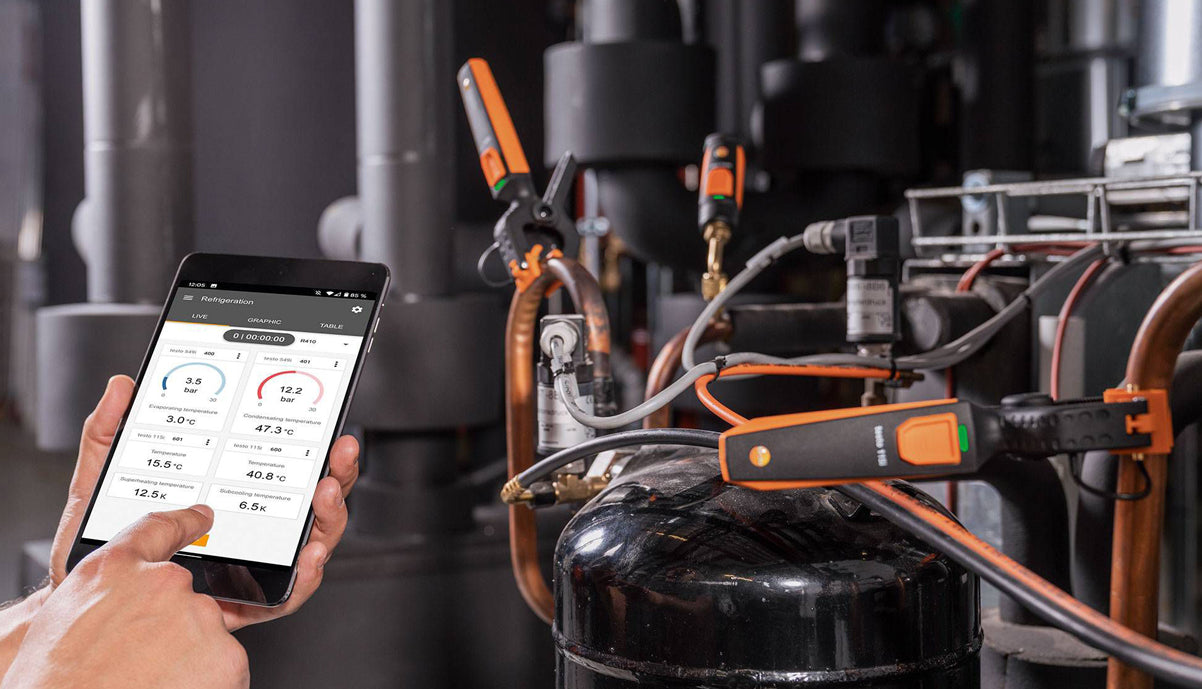 Going Digital with Refrigeration Measurements
It may come as a surprise to some of the younger tradespeople out there, but there are many technicians who have been in the HVAC industry for a number of years that still remember the days of using analogue tools. These tools were complicated to use, produced unreliable results that required double and triple checking, and were cumbersome pieces of equipment that were a real hassle to carry around. Even more surprising is the fact that there are still a number of people that are still using this outdated technology.
It can be difficult moving on from a familiar, tried -and-tested tool, but for the sake of the efficiency and accuracy your customers deserve, making the transition to the digital age is essential. Testo's Smart Refrigeration Set is the perfect place to start.
Convenience without Compromise
Due to the complex nature of modern HVAC equipment, you would be forgiven to assume that new tools for service and maintenance would be equally complicated. However the opposite is true -  innovation has streamlined and simplified measuring devices, making them more intuitive and adaptable.
For example, the Testo Smart Refrigeration Set features a hose-free installation on refrigeration systems. This makes it a much more portable solution. Complete with two Testo 115i Smart Clamp Meters and two Testo 549i Smart Pressure Meters, the set has everything an HVAC professional needs to measure CFC, HFC, HCFC, N, H2O and CO2.
Measurement Reading on Your Smart Device
You may see the range of tools included in the Testo Smart Refrigeration Set and think to yourself that something is missing… a means of recording measurements! But that's exactly where the "Smart" aspect comes in. Rather than needing to consult the equipment itself for readings, all of the information is seamlessly sent to your smartphone or tablet via Bluetooth.
Taking advantage of the technology that most of us are already carrying in our pockets means that Testo has been able to simplify the core equipment to its most important elements - namely, taking accurate measurements. Connecting wirelessly to the app allows greater flexibility for technicians and therefore they are no longer chained to archaic, often-inaccurate measurement tools.
The Testo smart Refrigeration Set is all conveniently packaged in a Smart Case. The set and your smart device of choice is all that you need to make calculating tests and maintenance on refrigeration equipment easier than ever. We can wave goodbye to the days of excessive hose connections and making a best estimate based on inaccurate data - with Testo, your measurements have just gotten smarter. For more information on our range of HVAC tools, get in contact with the team at Testo NZ today!