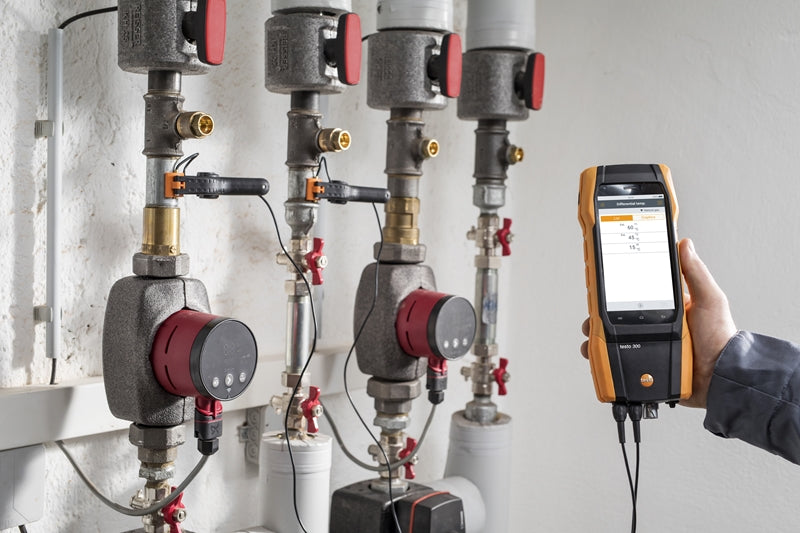 5 Reasons That Make The Testo 320 Flue Gas Analyser So Unique.
There was a time where all that users required from advanced digital gas measurement instruments was their ability to simply record accurate results. However, these days we have moved beyond that. To create a market leading solution, it is not just important, but essential, that an intuitive user experience and the ability to collate and process data is managed by a single key device. Creating a balance within all the functionality can be a challenge. It requires developing a reliable instrument that not only has advanced features, but also remains flexible for a variety of uses across different industries. One industry in particular being heating system maintenance.
This is what puts Testo's 320 flue gas analyser in a league of its own. It ticks every box in advanced measurement solutions, as well as being capable of fulfilling any requirements a user may have. There really isn't anything else like it on the market.
Here are 5 features that make the Testo Flue Gas analyser so unique.
It is important that users are confident with how a flue gas analyser works before use. With this in mind, Testo 320 has been developed with intuitive, Smart-Touch Technology. This allows for easy optimization in regards to the user experience.
The Testo 320 gas flue analyser is designed with the best features of commercial smart devices. It is equipped with a five inch HD display that operates just like a smart phone, creating a user experience that is both familiar and intuitive. This functionality extends to when the device is on stand-by mode allowing it to always be operational when needed. It is the most user-friendly solution on the market.
Easy Administration
An advantage of digital measurement solutions is the ability to collate and process data easily in a manner you choose. Testo's 320 measurement solution provides unique menu options and simplified data presentation modes. Flue gas analysis data is tracked using smart software that is easily configurable to the requirements of the user. This data can also be displayed in table or graph form, offering a range of insights to aid expert gas analysis.
Turnkey Functionality
The complete Testo 320 analyser kit is ready to use straight out of the box. No time consuming training, keeping the process of getting up and running efficient for both technicians and clients alike. The kit includes flute gas probes, unique Testo software, and instrument case. It makes heating system servicing and testing a simple task. Switching between recording different gas parameters is seamless with the versatile additional probes.  These probes are able to be connected to three gas measurement sensors.
Smart Data Reporting
Thankfully, we've moved passed the days of heating system technicians having to manually compile flue gas data. Sitting and analysing data at length to draw actionable insights is a thing of the past. Testo's 320 measurement instrument automates the entire process.
Within the Testo 320 flute gas analyser, reports containing information and customer applications can be drafted onsite. This data is customizable for all users, meaning everyone is capable of creating an easy to use report on whatever data set is needed. At this point, reports can be emailed through a wireless connection to other smart devices, or stored on the instrument itself to access later.
Resilient Design
It's all very well having market leading smart technology built into a single device, but if that device cannot survive the rigours of day-to-day operations it is useless. The Testo 320's robust housing is built from the ground up with that in mind. It is designed to weather any shock impacts that may occur. Couple this with a scratch proof display that is sunk directly into the instrument and protected by an exchangeable protective film and you have a device that can withstand any work place condition. It is these design considerations that puts the Testo 320 instrument even further ahead of its competition.
Testo's 320 analyser
is a single device that is applicable across a range of industries. It is an advance solution for all heating system
flue
gas analysis needs. The Testo 320 is on the forefront of innovation within the gas measurement sector. To enquire about the incredible Testo 320 gas measurement instrument,
get in contact with us today
.